Editor-in-Chief
Jaime Bertoluci
Universidade de São Paulo
jaime.bertoluci@usp.br
Senior Associate Editor
Linda Trueb
University of Kansas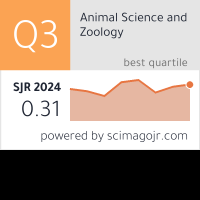 Description
PHYLLOMEDUSA
publishes original research articles, short communications and review papers concerning the whole field of Herpetology.
PHYLLOMEDUSA
also maintains sections for Book Reviews. Manuscripts will be considered on condition that they have not been published elsewhere or are not under consideration for publication, in whole or in part, in another journal or book. Publication in
PHYLLOMEDUSA
, including color pictures, is free of charge. All manuscripts are subject to peer review. This process averages 90 days. Authors receive pdf proofs before publication and 30 reprints free of charge. Full-text pdf versions of all articles are available for free download in this homepage.
Scope
Manuscripts must contain significant new findings of fundamental and general herpetological interest and may not be considered if they do not meet these criteria. Surveys and descriptions of new species are published only where there is sufficient new biological information or taxonomic revision also involved to render the paper of general herpetological interest. Low priority is given to confirmatory studies, works that are primarily descriptive in nature, investigations primarily of local or regional interest, techniques unless of broad application, species range extensions, and descriptions of phenomena based on scanty data. Manuscripts should include a clear statement of purpose and/or hypothesis to be tested by the work, and may be rejected if this is lacking
Articles published in PHYLLOMEDUSA are indexed by BIOSIS, Zoological Records, CABI Publishing, DOAJ (Directory of Open Access Journals), ISI Web of Knowledge (all databases, by publication name) and SCOPUS, but its contents may be found in several internet sites including Bibliomania!, Herpetological Contents, Elsevier Science Bibliographic Databases, and The EMBL Reptile Database.
Bibliographic and Ordering Information
ISSN
: 1519-1397
Imprint
: Departamento de Ciências Biológicas - ESALQ - USP
Commenced publication 2002
-
Issues published
Subscription for the year 2009, Volume 6, 2 issues
PRICE FOR INSTITUTIONAL USE IN BRAZIL - R$ 150,00: (public libraries and institutions: R$ 100,00) Order Form
PRICE FOR PERSONAL USE IN BRAZIL - R$ 100,00: (undergraduate an graduate students R$ 75,00) Order Form
For all countries except Brazil:
P.O. Box 58355
Salt Lake City, UT 84158
USA
Phone/Fax: +1-801-562-2660
www.herplit.com
E-mail (Breck Bartholomew): breck@herplit.com